Ismailiyye building was built by Baku millionaire Musa Nagiyev in memory of his son died at young age. The designer of the palace built in Venice Gottic style was Polish I.K. Ploshko. The idea of independence of Azerbaijan was for the first time sounded in this building. In March 1918 events the building was burnt down by the Armenians.
Institute of Manuscripts named after M. Fizuli - TAGIYEV'S GIRLS SCHOOL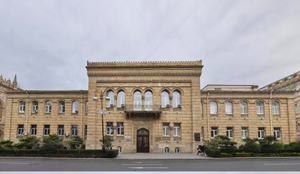 The project of Tagiyev's girls' school building was the work of chief architect of the city in 1892-1904 I. V. Goslavskı. The building was constructed in Gothic style. At that time such a school was not only in Russia, but in the whole Islamic world. On November 5, 1896 the building was officially given for a school of girls.
In 1918-1920 Parliament of Azerbaijan Democratic Republic was located in this building.
National Museum of Azerbaijan History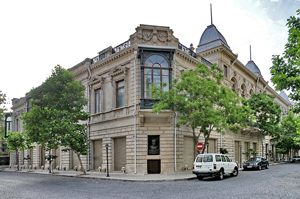 This building in which the Azerbaijan History Museum was located was the home of famous philanthropist Haji Zeynalabdin Tagiyev. The building was built under the project of chief architect of Baku city V. Goslavski
During the construction of the building a variety of architectural styles had been used. Thus, the symmetric form of the magnificent facade was in Italian renaissance style, cleaning room in French rococo, dining room in Flemish Baroque, bedroom in modern style.
National Museum of Azerbaijan Literature named after Nizami
The building of the Museum of Literature named after Nizami (formerly "Metropol" hotel) was built in the style of Gothic architecture on the Project of Mashadi Gasymbay Hajibababayov. In 1914- 15 years after the architect A.A.Nikitin made a number of changes in the project of building the " Metropol" hotel operated here.